Austria is a landlocked country in Central Europe of approximately 8.7 million inhabitants, and is bordered by the Czech Republic, Germany, Slovakia, Hungary, Slovenia, Italy, Switzerland, and Liechtenstein. The majority of the population speaks German, which is also the country's official language. Other local official languages are Croatian, Hungarian, and Slovene. Austria is a parliamentary representative democracy, a member of the United Nations and the European Union, as well as a founder of the OECD.
The capital and largest city is Vienna with a population exceeding 1.8 million. It is surrounded by the natural beauty of the Wachau valley, moulded by the curving flow of the Danube, the majestic river which crosses the city. Its historic centre, which is included in the UNESCO World Heritage List, is often compared to a real-life museum, and is proof of the city's great history.
Vienna is renowned for its historic and striking architecture, as well as its rich cultural heritage. From
Jugendstil
and
Gründerzeit
to contemporary buildings: Vienna is a city that has grown over the course of centuries, in which new has emerged from the old, where some things were planned, and others developed organically.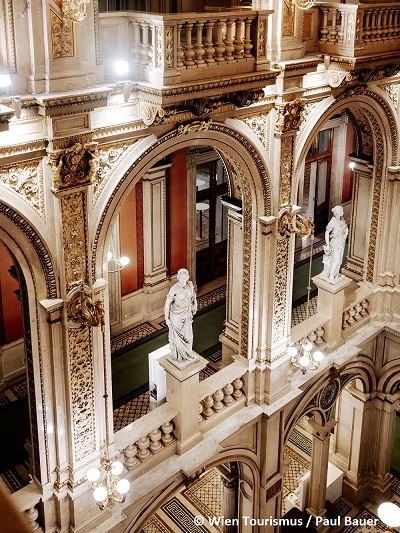 Tourists from around the world flock here to enjoy the opera, classical music concerts and the local cuisine, which is famous for both its sweet and savoury specialities. Mozart, Beethoven, Haydn, and Schubert recognised the glory of this city to use it as a muse for composing their brilliant masterpieces. The wonderful sounds of these and other prominent composers are still heard in the operas and concert halls, which are well-known for their beauty and splendour.
Traditional coffeehouses are found at every turn in the city. Since 2011 the '
Viennese Coffee House Culture
' belongs to the intangible cultural heritage of UNESCO. Male waiters in tailcoats will serve a wide variety of coffee drinks on silver patters on marble tabletops and the whole historical atmosphere is topped off with piano music.
For over 600 years the Vienna
Hofburg
was the residence of the Habsburg dynasty, the members of which reigned from the 13th century as rulers of the Austrian patrimonial lands, then as emperors of the Holy Roman Empire (1452) and as emperors of Austria (1806). The Habsburgs were famous fine art collectors and thanks to this passion Vienna inherited a huge variety of different museums and stunning collections such as the MuseumsQuartier, one of the largest districts for contemporary art and culture in the world, or the Belvedere Museum which hosts a large collection of paintings by Gustav Klimt.
Vienna is a modern and cosmopolitan city with much more to offer than just culture and history. Its inhabitants have a quality of life consistently ranked first in the world, it has one of the best public transport systems of any city and is an ideal place to live or to visit.